Good evening everyone. I hope your week if going well. We had a wonderful day today. First we had a playdate with our cousins, then Mimi and Papa finally came home. Whoo hoo!! My how we have missed them. Sophia kept asking all day when they were coming home and we would be able to see them. She made them welcome home signs and couldn't wait to hang them up. We actually beat them home and surprised them. It was so much fun. I am glad they had a great trip, but boy did we miss them.
Since, it is Wednesday it is time to talk about food and I have a new recipe for you!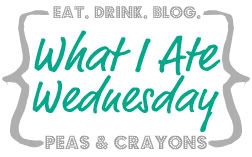 As always, thank you Jenn for hosting.
After getting back from our trip I was ready to get back on track with clean eating. My body was definitely happy to be home.
Post Workout – 6:45am
After my workout I made my favorite protein shake.
Breakfast 9am
A couple hours later I made a few pumpkin protein pancakes. One thing I learned from my mini lean out plan was to listen to my body more. I noticed that some days I was simply eating because it was time. So, some days I would have breakfast immediately after my protein shake since my girls were eating. But now I know I don't have to eat it then and just wait until I am hungry.
Snack 11am
For a snack/lunch I made a poached egg on Italian bread. Seriously, this is one of my favorite meals.
Snack 12pm
So, as you know I have been working on making my microwave individual chocolate cake paleo. Well, I think I have finally figured out the perfect recipe.
Paleo/Gluten Free Individual Chocolate Cake
Ingredients:
1 Tablespoon almond flour/meal
1 Tablespoon coconut flour
1 teaspoon tapicoca flour/starch
1/2 teaspoon baking powder (this can be omitted; it simply makes it more like a brownie)
2 teaspoon cocoa or cacao powder
1/2 teaspoon vanilla extract
1 teaspoon unsweetened applesauce
2 Tablespoons unsweetened almond milk
1/2 teaspoon sweetener of choice (I do not add any sweetener, but you can use agave, honey, stevia, etc.)
Directions:
Combine all dry ingredients in a bowl. Mix together.

Add the vanilla, applesauce, and almond milk. Mix thoroughly.
Put half into a small dish/ramekin.
Add almond butter (any nut butter would work) You could also had a few chocolate chips.
Put the rest of the batter on top of the nut butter.
Microwave for 30 seconds.
Enjoy!
Snack 3pm
McKayla and I enjoyed a egg and sausage muffin.
Dinner 5:30pm
Steve was not home for dinner last night so the girls and I kind of had random things for dinner. We had some oatmeal (we all love) and a bowl of cereal (Kashi Go Lean).
Snack 7:30pm
Once, I got all the girls down to bed I had a paleo protein bar. Such a nice sweet treat.
A few things I did as soon as we got home from our trip to get back on my clean eating lifestyle was cut up a big batch of fruit, lettuce, and make some egg and sausage muffins (healthy snacks). Having these healthy food readily available are a must for me; especially because most of the time I am holding a baby or two so I need clean eating to be quick and easy.
In the Comments Below:
What was your favorite food from this week?