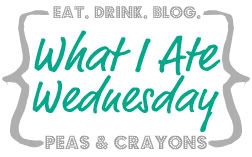 What I Ate Tuesday!
I have to be honest with all of you, I was not very good today at remembering to take pictures of what I ate. I think I am starting to have pregnancy brain.
Breakfast – 7:30
Snack – 9:30
Lunch – 12:00
Turkey Pita – I take about 3 ounces of boars head roasted turkey and heat it up in a skillet, then I add it to a pita with lettuce. It is really delicious. And yummy fruit salad. Which Isabella always manages to eat most of it.
Snack – 3:30
Peanut Butter and Grape Jelly Sandwich with a few crackers – I know funny snack, but for some reason today I was really hungry.
Dinner – 6:00
I was really in the mood for tuna fish and since I am pregnant I am only allowed to have it once a week. So, I figured this would be my night. I had a can on white albacore tuna with miracle whip, my favorite.
Oh and a salad, of course.
Dessert – 7:30
Chocolate Vanilla Swirls Pudding – for some reason this has sounded so good all pregnancy, so I had to pick a small package up.
Later this week I will have a few new recipes for all of you. I will talk to you later.