Good evening everyone. I hope you are having a wonderful week so far. Today we had a much needed family day; Steve took the day off to spend it with all of his girls.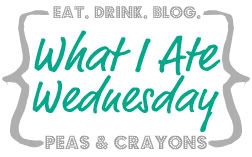 Since, it is Wednesday I am linking up with
Jenn
for What I Ate Wednesday. Instead of talking about my usual day of eats I thought I would take a moment to talk about exercise and eating on vacation. First I must admit I didn't take one picture of my food from this trip, I know that is terrible, but I was simply enjoying my hubby.
I will start by saying I did not step foot in the gym, but boy did we walk A LOT. If you have been reading my blog for awhile you know I have been working out about 7 days a week for months, so my body has become exhausted. Therefore, I knew I needed to use this vacation as a way to rest my body from my traditional workout. However, don't think all I did was sit, drink, and eat bad food all day everyday; that is simply not me.
Steve and I love to walk, so we basically walked everywhere we could. Steve wore his fitbit while we were there and we walked just about 8 miles each day. We would walk for hours to get from one casino to the next, to go to dinner, to go to  the pool, walking is always a no brainer for us. I never took an escalator or an elevator if stairs were available. That is a big one. It always amazed me that I was the only crazy person taking the stairs; everyone probably thought I was crazy, but oh well I felt great!! I would make sure to throw a pair of flip flops in my purse when we would go out at night. I do love my heals, but I also love walking. So it's a win-win. Don't ever let your shoes prevent you from moving.
I am a huge believer in everything in moderation, which is exactly how I ate in Vegas
We started each day with a great breakfast. My breakfast always consisted of protein. Sunday we ate at a café in our hotel so I ordered eggs whites, sausage, hash browns and wheat toast. I only ate half the serving on has browns (restaurants always give too many potatoes). Monday and Tuesday we ate the buffet and for most people that is a big no, no if you are eating in moderation. But for me it's easy. I first decided if I am going to eat breakfast or lunch. I don't need to eat both in the time frame of an hour or less. Since, I love breakfast so much I stuck with that both days and actually ate the exact same thing. So, I chose a large serving of scrambled eggs (which were delicious), a slice of wheat toast, one mini waffle, and fruit. Once, I filled my plate I never went back for seconds. I knew that was plenty of food and I wasn't going to simply eat because there is more food. We don't get more for out money just because I eat more. If my body doesn't need the food then it's a waist. This same philosophy goes at home. Don't just eat something because you don't wait to throw it away. If your body doesn't need it you are still wasting it.Okay, I will stop preaching, but that's how I feel about buffets.
Each day we would simply have a small lunch. We weren't starving and knew we were going to have a big dinner. Saturday, I had a pesto chicken sandwich (only ate half the bun), the next day I a delicious slice of brick oven pizza (worth it), Monday was a turkey sub, and Tuesday we share a personal BBQ chicken pizza from California Pizza Kitchen at the airport. Simple. I never felt like I was depriving myself of anything I simply made sure to eat in moderation and not go over board. Each day later in the afternoon we would get a scoop of gelato.
Dinners were definitely a little more indulgent. Saturday night we went to this fabulous steakhouse off the strip (Steve found it on the list of the best steakhouses in Vegas). I ordered a petite filet with a salad. A bottle of wine was shared too. I must tell you it felt good to have a glass or two of wine with my hubby without little ones running around. This was my favorite dinner while we were there. I loved our time together. Sunday night Steve surprised me with tickets to the Cirque Du Soleil show at the Aria so before the show we went to this amazing burger restaurant at the Mirage. I ordered a plain hamburger and we shared a fry. Easy and delicious. We begin Monday night with drinks and appetizers at Capital Grille (one of our favorites). I ordered my absolute favorite drink the stoli doli. If you have never had this drink you are truly missing out and I am not a huge drinker, but this one gets me every time. 🙂 It's simply pineapple soaked in vodka, but be careful how many you have. After leaving Capital Grille we headed over to this Mexican restaurant at the Venetian. We have pretty much gone to this restaurant every time we have visited Vegas, however I must say this time it didn't seem to be as tasty. But it is still a fun experience. The restaurant is right on the canal in the Venetian shops.
Our trip to Las Vegas was amazing. It was exactly what we needed as a couple. We are closer then ever and I can't even explain how much I love my hubby. He is the best and I am blessed to have in my life and my girls lives.
While we were there we decided that we need to make sure we are taking time out for each other. It is very easy to go day to day and not spend quality time together. Yes, we spend time together after the kids are in bed, but lately we are doing our own thing and not really spending it talking, laughing and enjoying each others company. We are going to make it a point to change that. We love being together and want to take time to do that. A few we are going to do to keep our relationship strong:
Most Friday nights we are going to have a date night at our house. We are going to open a bottle of wine and simply spend the evening together (once the girls are in bed). This one couldn't get any easier.
We are going to try to plan an over night our every 6 months and every 12 months try to get away for a long weekend.
We are going to consciously put each first. Yes, we are always going to take care of our girls needs, but we are also going to make sure we take care of each other. We need to remember our marriage is the most thing important to our happy family.
In the Comments Below:
Your favorite food from this week?
What special things do you do in your relationship to keep it strong?