I can't believe it is Wednesday already. It is Sophia's first day of preschool. I have so many mixed emotions going on right now. But, I will talk about that later. Right now let's talk about food.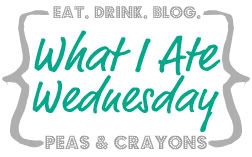 Thank you Jenn for hosting.
Breakfast – 7:30
The girls and I made Greek Yogurt Waffles.
Lunch
I have no idea what time I ate at and really I ate my one piece of chicken throughout an hour or so. McKayla and McKenzie were not very happy, but I was also starving so I had to eat with one. I have decided when I am by myself I need to eat things that I can pick up; nothing that uses a fork and knife. :)
Steve marinated and grilled a bunch of chicken for us on Monday, it was delicious.
Snack – 4:00
Sophia and I had dentist appointments and then ran some errands. We were both hungry so we each ate a bar. Lately, those have been my saving grace.
Dinner – 6:00
While Sophia and I were shopping at Trader Joe's she saw a pizza (in the refrigerated section) and said we have to have this for dinner tonight. She also said, "Let's try the pepperoni one because I think I might like them now and if I don't I can always take them off. It's good to try new things."
This pizza was less then $5 and delicious. We are definitely going to have to get it again.
Dessert – 7:30
I had made a red velvet cake for Steve's dad's birthday on Monday so I had a piece after the girls went to bed. It hit the spot.
This cake is a box, but oh so delicious. It is moist and amazing.
In the Comments Below:
What was your favorite food from this week?

What is your favorite type of cake?