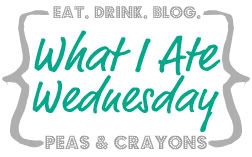 Foods from Tuesday!
Breakfast -7:30
I am still not feeling 100% so I decided sleep was more important than waking up early to workout. So, Sophia woke me up at 7:00 and wanted yogurt waffles. Of course, she wanted sprinkles on hers. 🙂 I had my waffles with a little butter and a sprinkle of powdered sugar.
Snack –  9:30
I ate one of my favorite bars on the way to Sophia's ballet class.
Lunch – 11:30
I had my usually half a peanut butter and grape jelly sandwich with a few crackers.
Lunch #2 – 1:00
Turkey with cheese, hummus and La Tortilla tortilla, and a few triscuits.
Snack – 3:00
For some reason I was quite hungry today so I decided to have a couple protein pancakes and a bowl of fruit.
Dinner – 6:00
Salad with lettuce, sliced almonds, carrots, a few croutons, a little cheese, and Garlic Expressions dressing. This is one of my favorite salads.
A piece of lasagna, I had made the other night.
Dessert – 7:30
So for dessert tonight after the girls went to bed, I decided to have one of my favorite desserts and I wanted to share this yummy recipe with you. Once you make it you will never want to stop. 🙂
Single Serving Microwave Chocolate Cake – under 150 calories!