First, I want to say I can't believe this is my 100th post. That just seems so crazy. It truly feels like I just started writing this blog yesterday. Thank you to all my wonderful readers out there. I love getting know each and every one of you and I am so excited to be on this journey with you. Thank you for joining me!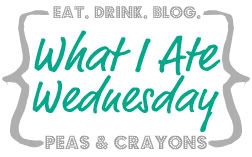 What I Ate Tuesday!
Breakfast 7:30
We ran out of Greek yogurt over the weekend, so I had to change up my breakfast today and  I was pretty sad. See, I am not supposed to go grocery shopping with the two girls, too much effort. :/ Therefore I have to make a list for Steve and wait until he can make it to the store. Well, today Steve stopped on his was home from work, so no worries I will be eating my yummy Greek yogurt waffles tomorrow.
I really wanted french toast, but Sophia insisted upon pancakes and I wasn't in the mood to make two things, so we all had oatmeal protein pancakes. We haven't had them in a while and I have to admit they were very tasty. Good choice Sophia!
Snack 9:30
Lunch 11:30
Skinny Pizza Rolls by Dashing Dash - These are delicious and they are only 30 calories each! You have to try them.
Snack 2:30
Some of you know I hosted bunco at my house on Thursday and made a few appetizers. One of the appetizers was this Tomatoes and Mozzarella Cheese dish which is easy and delicious. So, for a snack today I decided to make just a couple for myself.
Dinner 5:30
A salad and heart shaped ravioli in honor of valentines day. Sophia loves the red heart shaped ones, actually those are the only ones she will eat. So, I only get the white ones.
Lately, I have not been able to eat any pasta sauce, which is very depressing. Therefore, I simply put a little butter and Parmesan cheese on my ravioli or any pasta.
Dessert 7:30
Peanut Butter Protein Shake - this makes a great dessert!