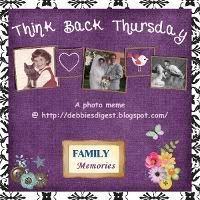 Today's, Think Back Thursday theme is Togetherness. So I decided I would look at a few of the past Christmas's and see what we have. Well, since you are beginning to get to know me, you are starting to learn I always used to forget to take pictures (especially after Isabella was born). But I am changing my ways. 🙂
So I don't have a lot, but here are a few of our little family together at Christmas time throughout the past few years.
Sophia's First Christmas – 2009
Family Picture – Christmas 2010
Sophia wants nothing to do with Santa. This year she says she is going to go up to him only if we are all with her. 🙂
We are going to see Santa this Saturday. I will let you know how it goes and I will take pictures. 🙂
Family Christmas Picture – 2011
The only picture I have of the family from this year is the professional one we got taken. Oh my! I vow to be better this year. 🙂
Thank you for stopping by, I hope you enjoyed taking a journey through the past few years with me. Life goes by so quickly always remember to cherish your time together as a family. Enjoy this holiday season!
*Update: I found a picture of Isabella meeting Santa for the first time. YAY!!
Check it out here.